Last modified on October 2nd, 2019
By Elizabeth Millar
Tenant screening is an integral part of a risk-based approach to property management. To maintain the highest standards and remain compliant with all fair housing laws, read on to discover why developing a formal screening process and consistently following it will benefit your property management business.
What is tenant screening? Tenant screening is the process of looking into someone's background and history before initiating a real estate transaction, such as the signing of a lease. A rigorous screening process identifies potential "red flags" and provides opportunities to enhance your customer service – both critical to building beneficial long-term relationships with current and prospective tenants. The screening process can be informal, such as a checklist of questions to ask potential tenants or a more formal report gathering and analysis of information to help you make the decision. The important thing is to make sure you have a clear, well thought out policy that is used consistently and applied in the same manner with each new applicant.
A Risk-Based Approach to Rental Applicant Screening
Risk-based management is a method of organizing company processes and activities to control risk exposure and achieve organizational goals, including financial goals. As part of the strategy, rigorous tenant screening helps ensure the company meets or exceeds compliance obligations while strengthening internal inefficiencies. The process allows front-line leasing staff to invest their time and energy in building relationships with highly-qualified applicants.
A well-designed system, one using data-driven resources, allows an organization to approve legitimate applications faster, reduce the potential for bad debt, and mitigate losses due to fraud all while providing access to housing for everyone in the community.
Here are five key areas that inform decisions during the application review and approval process.
1. Credit Profile Report
Tenant credit check processes can be seen as a way to identify applicants with low credit scores based on past payment history or unbalanced credit-to-debt ratios, but tenant credit reports also reveal new patterns that deserve a closer look. These changes may indicate better financial management or reveal early warning signs of financial distress.
Credit Reporting & Identity Theft
The credit profile report offers another risk management tool that some may not consider immediately: fraud deterrence. According to 2018 data supplied by LifeLock, an identity theft protection service provider, "Nearly 60 million Americans have been impacted by identity theft." Organizations that have not already dealt with a case of identity theft or fraud will have that experience some day because cyber-threats continue to evolve and expand.
When fraud is suspected, the National Apartment Association (NAA) recommends decision-makers approach approval, or denial, carefully as a compliance measure.
Identity theft victims have privileges and protection under the Fair Credit Reporting Act. Apartment managers who encounter a frozen credit file may ask for documents that verify identity, such as state-issued ID, drivers license, and local utility bills mailed to the current address. They can also request the applicant to approve a release through the credit bureau holding their data. An applicant who is unwilling to provide supporting documents or take steps to allow one-time access may be the fraudster and not the victim. Companies must take steps to determine the truth before approving an application, even all other aspects of an application look "perfect."
When in doubt, learn more about helping applicants from the NAA and credit reporting agencies in your area. Helping a victim of identity theft proactively take measures to rebuild their credit allows rent property managers an opportunity to expand customer service; it's a win for the applicant and the property management team.
OFAC Search
According to the Office of Foreign Assets Control (OFAC) website, their purpose is to administer and enforce economic sanctions programs, primarily against countries and groups of individuals, such as terrorists and narcotics traffickers. If someone (an individual or entity) is listed on the OFAC Specially Designated Nationals (SDN) list, you may not engage in transactions with them, unless approved by OFAC. If an applicant comes back with a potential OFAC hit reported on their background check, it's important to complete extensive due diligence to understand whether the person on the list is your applicant or not. Based on your review, you should then follow your policies and procedures for acceptance and denial of applicants.
2. Criminal Records & Background Checks
Some states, and even some cities, have passed legislation that prevents property managers from denying a rent application based on negative criminal histories alone.
As an example, Seattle recently passed ordinances that prevent landlords from denying a lease based on any criminal conviction except, "sexual offense convictions which occurred when the perpetrator was an adult, and which require that individual to be included in the national sex offender registry search for life on a local, state, or national registry." Even these denials must be defended by presenting a legitimate reason that renting to an applicant with a sexual offense conviction would negatively impact business.
Be sure to check your local and state laws (including any pending legislation) as well as any federal guidance (e.g., the HUD Guidelines) before establishing any policies to accept or decline applicants. It's critical to understand that the industry expects a careful consideration of the need to protect current residents in a housing community, while still providing access to housing for all individuals in that community. Some states have taken a position more strongly on the applicant/consumer side, and it's important to understand those that are relevant to you and create policies and procedures that follow those guidelines (it's always good to review these with your attorney specializing in fair housing before proceeding).
Background checks give application review teams an opportunity to gather more information about current and prior relationships: living arrangements, work histories and other behavioral clues that often impact financial responsibility.
Those companies who do in-house background checks typically view records from the following system who maintain legal filings records.
Justice of the Peace Court (JP)

Magistrate Court

County Court

District Court

Superior Court

Circuit Court

Courts of Common Plea (depending on which state the property is physically located)
An organization could spend hours, days or even weeks, reviewing court records to build a single applicant profile. A more efficient way to gather these public records is to utilize a third-party vendor or tap into an integrated screening tool built into your management software program to automate the process. It may be necessary to check both in-state and out-of-state registries to create a complete background profile.
3. Employment Verification
Employment patterns have changed over the decades; the workforce and business models have evolved. Fifty years ago, many primary breadwinners stayed in the same job throughout the working years. The 1990s saw an entrepreneurial explosion that created thousands of small businesses as we moved away from manufacturing into a new tech age. Then, the recession forced many people into the unemployment line. Today, improved market corrections and a service-driven economy have employers scrambling to find qualified employees to fill vacancies.
It's important to view past work history with a new lens. In a service economy, where people do things as opposed to making things, changing jobs is the norm. In 2016, Indeed.com commission a study by Harris to learn more about job patterns in the workforce. The poll revealed that 70 percent of the labor force were either actively pursuing a new job, or would be interested in exploring a job change opportunity.
How does this new attitude impact rent application consideration? A risk-based approach demands a shift away from assuming the most qualified applicants have been in the same job or career field for a long time.
It's still critical to verify current employment. Accurate employment information provides financial data, as well as a point of contact if the renter fails to pay rent.

Touch base with past employers to find out if the prospect left on good terms. Changing jobs may be the new norm, but a pattern of repeated terminations for cause may indicate irresponsibility rather than taking a new job that offers better pay, more benefits, and room for professional growth.

When considering a self-employed applicant, maybe one of those bright entrepreneurs, or a freelancer who prefers flexible, work-from-home hours, ask for two or three tax returns that confirm annual income.

Manage risk by implementing a post-screening policy that confirms employment every three to six months during the tenancy.
4. Eviction Reports
Factors that tilt the scales between applicants for the same rental unit – credit score, stable work history, low debt to income ratio – don't hold the same weight in all market conditions. When housing inventory is high, property management teams may adjust the rent to income ratio standards a little or lower the minimum income requirement slightly to make their property more attractive.
Accessing eviction reports as part of a risk-based management strategy is essential for verifying application information (again, check your state and locality for any legal restrictions on accessing and using eviction records). Anyone can check the "no" box next to the question that asks if they have ever been evicted. It is good to trust, but better to verify, and that's where eviction records come in handy.
A typical eviction summary includes valuable information about past tenant-landlord disputes and resolutions helpful for determining application status.
A comprehensive summary will show (where permitted by law):
Records matched to name and addresses

Filings

Judgments for Plaintiff or Defendant

Default Judgment

Dismissals

Writs of Possession
As, with other key metrics involved in assessing an applicant's worthiness, it is imperative to review the report with a critical eye. Eviction cases may potentially damage both tenant and landlord reputations.
The following tips cover some possible red flags and ways to avoid excessive eviction disputes.
Carefully review the dates of each filing and the resolution

. Irresponsible and unscrupulous landlords gain a reputation for granting almost anyone who can scrape enough money together to cover first and last month rent a lease. This often creates a tenuous agreement that neither party expects to honor. When case filing numbers for a particular address are high, proceed with caution.
A single eviction case over a long history as a renter does not in itself disqualify an applicant

. A major life event, such as divorce, illness, job loss, or death in the family, could be the driving factor behind default.
In some states, property managers may have a legal duty to notify law enforcement about any criminal activity conducted on their property. In some cases, failure to notify surrounding residents and the authorities merit criminal charges, as well as financial penalties. Rigorous tenant screening helps reduce legal exposure, the cost of litigating eviction processes and remediating damaged property.
5. Previous Address History
Although address verification has been mentioned previously, it is worth highlighting the importance of gathering past addresses as part of a risk-based approach to tenant screening again. Past addresses provide more details about financial habits, work history, prior living arrangements and relationships with other landlords or roommates. Without this data, criminal backgrounds and eviction summaries may not be complete. A seven to ten-year window is a good range to request from applicants.
Be Consistent With Your Tenant Screening
One of the most critical aspects of the tenant screening process is to perform screenings every single time you are evaluating a potential renter; consistency is key. Create a tenant screening checklist that reminds you to gather the necessary documentation and information from prospective renters, so you have everything you need to run a screening check, such as full name, phone number, rental references, and most importantly their social security number. SSN verification helps ensure you pull credit information against the correct applicant, and can also act a red flag if the details are incorrect.
An example checklist can be as easy as:
Applicant's personal information:

Full name

SSN

Phone number

Previous address

Employment status and company contact information

Rental references
Most importantly, ensure you have carefully thought out policies and procedures that are followed with every applicant, listing out your approval and denial criteria, as permitted by your state and locality.
Increase Efficiency with Effective Screening Tools
An accurate tenant risk assessment starts with collecting a complete application. Acquiring highly-qualified tenants demands implementing a comprehensive risk-based tenant screening policy, preferably one that deploys advanced property management software capable of scoring applicants on key metrics like the ones detailed above. For organizations looking to furnish their residential homes with best-fit tenants, examining public records, contacting current and past employers, talking to previous landlords and reviewing eviction filings creates a smooth, efficient path from application to approval.
Renters are looking for safe, comfortable homes. They expect transparency and openness from community leaders and decision-makers. When screening uncovers potential risks, talk to the applicant to see if there are mistakes in the records, or there were extenuating circumstances beyond his or her control. Always balance the safety and security of your community with giving applicants with potential issues the ability to discuss options for a positive outcome.
A tenant who recently became of victim of identity theft will appreciate knowing how to start the reporting process. An applicant who faced a prior eviction threat due to circumstances out of their control may warrant a second chance if all other metrics meet pre-established thresholds. And, if you decide to enter a lease agreement with someone who brings along a less than stellar credit score, or a minor criminal offense, be transparent about what the company expects going forward. Set boundaries, and enforce them through the lease term.
Automate the Resident Screening Process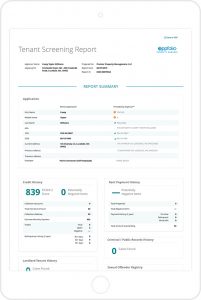 Taking all of these critical steps in the tenant screening process can be quite time-consuming, after all, you have a lot on your plate when you meet a prospective renter, show the property, and start the application process. Think about automating the cumbersome manual processes, such as the entire tenant screening process. The best property management solutions make it easy for you with a built-in screening tool and provide a clear decision based on your specified tenant screening criteria and resulting tenant score. By doing so, you can use these decisions knowing that they help keep you in compliance of Fair Housing Laws and remove any potential human bias.
When automating your resident screening process, you may want to step back and look at your entire leasing process as a whole. By utilizing an all-in-one property management solution like AppFolio, you have a one-stop-shop to automate the manual tasks starting from vacancy posting to moving in a renter and everything in between, including tenant screening. AppFolio's Tenant Screening service enables property managers to configure multiple criteria templates for automated screening decisions, and quickly run screening reports on prospective renters from within software. Each screening includes an easy-to-read decision page, and the report contains a summary and details about the applicant's background, including:
FICO credit score, credit history and public records from Experian, the leading national credit bureau.

Experian® RentBureau® rental history

.

Nationwide eviction search, pulling data from thousands of national, state, and county court records including those without a judgment (where permitted).

Nationwide criminal search, including Megan's Law, registered Sex Offender check and OFAC terrorist watch list.
Increase Occupancy While Retaining Great Renters
Comprehensive data informs better decision-making and service delivery. When you partner with a rental property solution expert who offers digital leasing and automated tenant screening services, you free up valuable time to spend face-to-face with prospective and current residents. Resident screening software does more than make the decision to bring in a new tenant easier, it also opens the door for higher profits, while minimizing risks. Find and keep those great renters who pay rent on time and present minimal risk to your properties while weeding out those who may cause headaches later down the road.